British Telecom – Temple Quay, Bristol
British Telecom – Temple Quay, Bristol
'Satellite', the latest major installation in Art Contact's programme for the use of art in BT offices, has just been installed at Temple Quay, Bristol.
The work, created by Diana Edmunds in collaboration with David Macilwaine, consists of a pair of suspended mobile installations, one of 3-metre diameter, the other 2.75 metre diameter. The larger of the two elements has two additional outer rings 4.7metres in diameter, suspended from the main cable and revolving around the whole. Materials used are light edge acrylic, mirrored acrylic, stainless steel and structural aluminium.
The sculpture refers to the concept of satellite communications. The integral use of light refers to the idea of optics in communication technology, as well as acting as a unifying and communicating factor between the two elements of the work.
Multicoloured light bounces between the satellites and is reflected on the walls of the atrium.
Particularly after dark, the effect is, according to one source; "amazing – after a long day it really has a positive effect – a great success."
PROJECT SUMMARY
Object – Source, select and commission mobile sculpture for Atrium
Client – British Telecom
Sector – Corporate
Location – Temple Quay, Bristol
Status – Completed
SERVICES PROVIDED
Consultation
Strategy
Planning
Community Arts
Art Selection
Procurement
Commissioning
Project Management
Art Handling
Transportation
Installation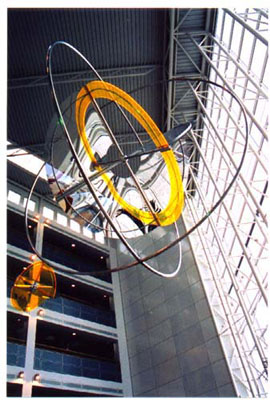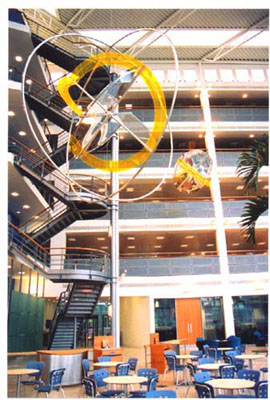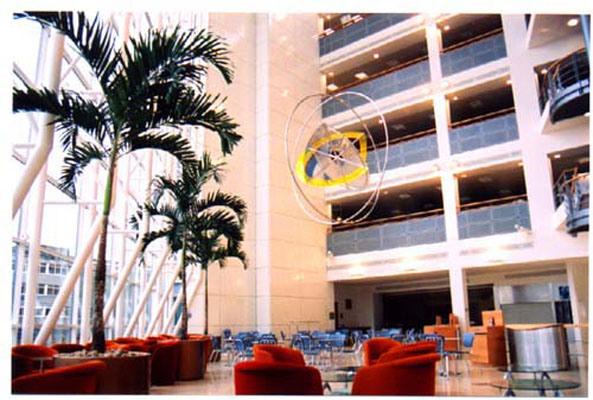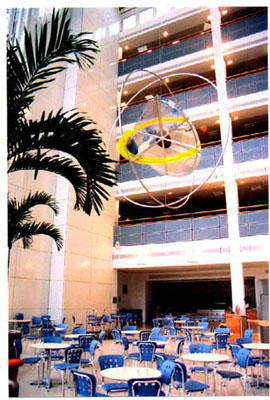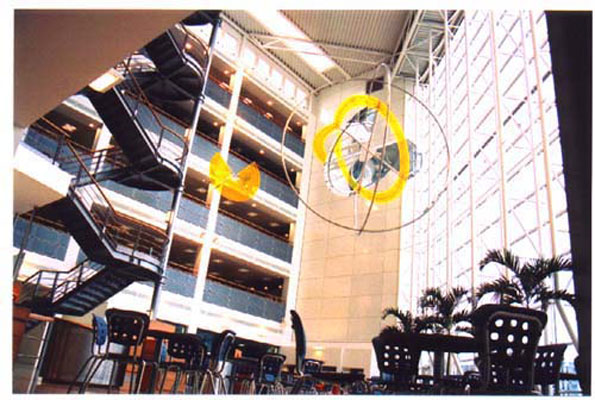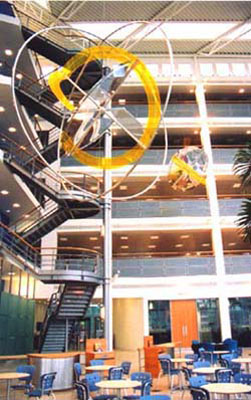 {"autoplay":"true","autoplay_speed":"3000","speed":"300","arrows":"true","dots":"true","rtl":"false"}
"amazing – after a long day it really has a positive effect – a great success."